Musica bellissima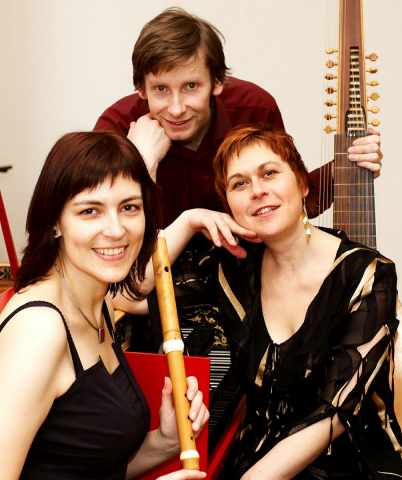 The chamber ensemble Musica bellissima was formed in 2001. The initial set up (harpsichord and lute) spread in 2002 into a trio (harpsichord, traverso and theorba, archlute or baroque guitar). The founding members are harpsichordist Eva Čierna-Tornová and lutenist Martin Celhoffer. Currently, Musica bellissima consists of Eva Čierna-Tornová – harpsichord, Lucie Lukášová-Pelíšková – traverso and Miloslav Študent – lute, archlute. The ensemble is specialized in interpretation of music from early to late Baroque, its members play the replicas of original baroque instruments. The speciality of the ensemble is presentation of not only chamber music but also solo repertoire for particular instruments.
Musica bellissima also collaborates with other performers and ensembles. With special pleasure,Musica bellissima performs with Chorea historica, the ensemble of historical dances under the guidance of Eva Kröschlová.
Musica bellissima performs both in the Czech Republic and abroad, takes part in international music festivals (Haydn Music Festival, Kladrubské léto, Royal Music Festival Zlatá Koruna, etc.) and occasionally performs also in the Czech radio.
The artistic director of the ensemble is Eva Čierna-Tornová.
---