Our programmes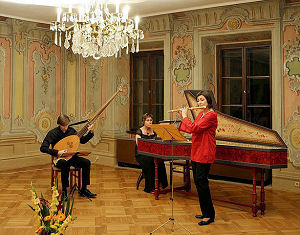 The Sounds of Baroque Italy
Music of Italian late baroque masters
Music at the Court of Friedrich The Great
Our programme presents works of Frederick The Great, king of Prussia, his sister Anna Amalia von Hohenzollern and composers employed by Prussian court.
History and Present
Encounter between music of baroque masters and contemporary Czech composers.
In the Shadow of the Great Master
Remarkable compositions of lesser-known baroque composers (Anna Lucia Bon, Johann Joachim Quantz, Antonio Soler, G. Sarti aj.).
Honour to F. X. Richter
Our concert is dedicated to Czech composer František Xaver Richter and his contemporaries.
Programmes with guest artists:
"Amor mio..."
Dances of Renaissance Italy
Baroque Invitations
Programmes with music and dance produced in co-operation with Chorea historica, the ensemble of historical dance.
Music of Baroque France
Music of French great masters of 18th century.
Soloist: Irena Troupová – soprano
La Paix du Parnasse
One of the most interesting chamber works of French baroque music – Francois Couperin´s Les Apothéoses, allegorical meeting of Arcangelo Corelli and Jean-Baptiste Lully.
Guests: Eva Nachmilnerová – violin, Dalibor Pimek - violoncell
The Great Name Bach
Sacred cantatas of J. S. Bach and instrumental works of his sons.
Guests: Ivana Krejčiříková – soprano, Eva Nachmilnerová – violin, Helena Matyášová - violoncello
---