Interpreters
Eva Čierna-Tornová (harpsichord)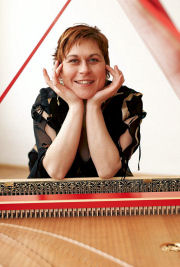 She began to play the piano in her native town České Budějovice with Magda Štajnochrová. Eva attended the Prague Conservatory (piano, with František Kůda), and earned her degree in Pedagogics and Psychology at the Prague Academy of Music.
She amplified her knowledge of music theory at the Faculty of Arts at the Charles University in Prague (musicology). She graduated from the Janáček Academy in Brno, where she studied harpsichord in Barbara Maria Willi´s class. She takes part in master courses taught by world-famous performers (Jacques Ogg, John Toll, James Johnstone). In 2004, she studied with Jacques Ogg at the Royal Conservatory in The Hague.
Nowadays, Eva pursues concert and pedagogical activities and she has led workshops of harpsichord playing in Olomouc and at the Summer Piano School in Týn nad Vltavou.
She collaborates with well known Czech musicians on the interpretation of the Renaissance, Baroque and also the 20th century music. She broadcasts for the Czech radio (chamber and solo music) and performs not only in the Czech Republic but also in various foreign countries (England, Slovenia, Italy, Germany, the Netherlands etc.).
Together with Lucie Pelíšková, she has played at the opening concert of the prestigious Festival Brežice (Slovenia), which was recorded for the TV. Eva also works for the Czech radio (Vltava Station), preparing programs on Renaissance and Baroque music.
Lucie Lukášová-Pelíšková (traverso)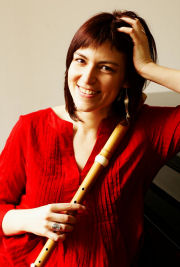 Lucie began to play the flute in her native town Letovice with Mojmír Poláček and Vítězslav Hanus. She graduated from the Brno Conservatory (flute, with Judita Menclová) as well as from the Faculty of Arts of the Masaryk University in Brno (musicology, bohemistics).
Her interest in baroque music led her to the baroque flute and she began to study traverso under the guidance of Andreas Kröper. She participates in numerous master courses taught by highly esteemed European performers (Nancy Hadden, Ashley Solomon, Wilbert Hazelzet, Peter Holtslag, Thijs van Baarsel, Andreas Kröper). She has performed in several festivals both in the Czech Republic and abroad (Poland, Slovenia, Italy, Germany, Slovakia).
With Eva Tornová, she has performed at the opening concert of the prestigious Festival Brežice in Slovenia, which was recorded by the Slovenian TV. Lucie also collaborates with other ensembles specialized in the interpretation of early music, broadcasts for the Czech radio, and has performed in the Czech TV. She has also cooperated with alternative theatre groups.
Currently, Lucie teaches History of Music and Czech at the Brno Conservatory, where she also leads the class of the interpretation of baroque music. In 2008, she finished her postgraduate studies in musicology at Masaryk University.
Miloslav Študent (lute, archlute, baroque guitar))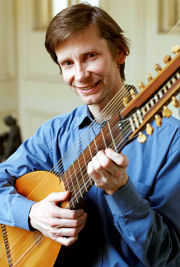 During his studies at the Masaryk University in Brno (musicology, aesthetics), he has already been deeply devoted to the questions of early music performance praxis. At the same time, he founded and led the Flores Musicae ensemble (along with Magdalena Kožená, Vladimír Richter and Věra Mikulášková) and made several new premieres of forgotten master works. He was the founding member of Collegium pro Arte Antiqua in Brno as well.
After several master courses (lute - S. Juřica, L. Contini, S. Stubbs, H. Smith, and viola da gamba - R. Boothby), he graduated (1998) from the three-year course focused on practising the Italian 17th century music at Laboratorio permanente di ricerca sulla musica italiana del XVII secolo in Milan with R. Gini. In 2002, he obtained the diploma in the P. Beier's lute class.
Since 2002, Miloslav has been leading a lute class of the Academy of Early Music at the Masaryk University in Brno. Within the frame of the education at the Academy, he holds various special lectures and seminars. He was leading the Academy from 2004 to 2008.
In 2003, he also led the specialized lectures at the Accademia internazionale della musica di Milano. In 2004, he was the artistic director of the baroque opera festival in Valtice. In the following year, he prepared the performances with music and dance (Duel zpěvu a tance, and Festino).
He has cooperated with a number of specialized ensembles (e.g. Ensemble Concerto Milano, Ritornello Prague, Cappella Regia Musicalis Prague, Musicalische Compagney Berlin, Ensemble Galatea, Teatro Franco Parenti Milan, La Gambetta) as well as the soloists (e.g. M. Kožená, J. Lewitová, B. Zanichelli, M. Hugget, E. Machová, R. Gini, M. Pospíšil). In his career, he has performed not only in Europe but also in South America.
He performs as a soloist as well and has made several recordings (e.g. for Accent, Stradivarius, Arta, broadcast and television).
---